Purple Robin Reserve opened almost 6 years ago on Main Street in Lititz. Opening doors to over 160 local and regional artists.
---
---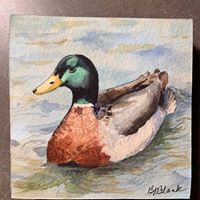 Brenda Blank Watercolors
Lancaster County Partner Artist Brenda Blank loves to paint.  "My medium of choice is watercolor. I enjoy experimenting with a variety of techniques and love seeing pigment flow through water, its transparency and the layers of color come to life on the paper. And I always welcome the challenge to find the balance between control and allowing the picture to paint itself." Brenda always has numerous original paintings on display at Purple Robin Reserve, including her popular mini masterpieces.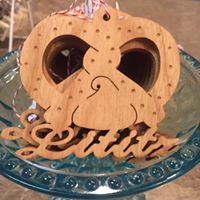 Dan Shultz Woodworking
Partner Artist Dan Shultz's love of woodworking is obvious to everyone. Every ornament is handmade by Dan on a scroll saw. The enjoyment he gets from scrolling comes from knowing that each handmade piece, while they might appear the same, is one of a kind. Dan creates over 150 ornaments, many are available year-round at Purple Robin Reserve.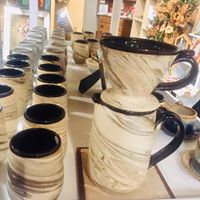 Mary Anderson Pottery
Lititz Partner Artist Mary Anderson loves creating pottery. From her home studio Mary designs new pieces frequently from wine glasses to coffee mugs, snowflake ornaments to beer steins and serving trays and condiment bowls. Functional pottery is her goal.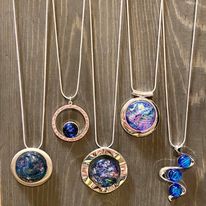 Jane Uzwiak Jewelry
Lititz Partner Artist Jane Uzwiak exclaims, "fused glass with all its vibrancy and endless palette was what first attracted me. Glass is a metaphor for life. With effort, care and skill, a piece of beauty, be it glass or life, can be created. Glass, like life, needs to be respected."